(CNN)A 6.9-magnitude earthquake rocked Indonesia's resort islands of Bali and Lombok on Sunday, causing people to rush out of homes, hotels and restaurants. Three people were feared dead and injuries were reported, local government and Red Cross officials said.
Strong aftershocks followed the main quake, which was 31 kilometers (19 miles) deep and struck near Loloan on the north end of the island of Lombok. It was also felt on Bali to the west.
The quake occurred in the early evening after sunset and was the second powerful temblor on Lombok in a week. A 6.4-magnitude earthquake shook the island July 29, killing more than a dozen people and briefly stranding hundreds of hikers on the slopes of a volcano.
The United States Geological Survey slightly downgraded Sunday's quake after initially calling it 7.0-magnitude. Strong aftershocks ranging from 5.4- to 4.3-magnitude followed the main quake, the USGS said.
Indonesia's Tsunami Early Warning System had issued a tsunami warning after the main quake but it was later lifted, according to the country's National Disaster Management Agency.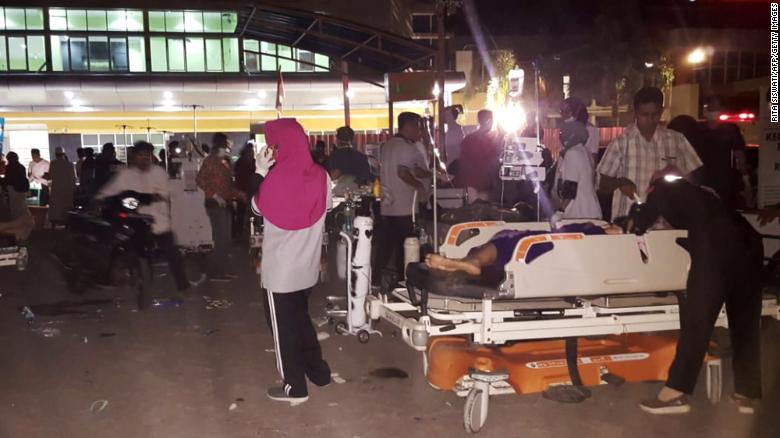 "All the hotel guests were running, so I did too. People filled the streets," Michelle Lindsay, an Australian tourist on Bali, told Reuters. "A lot of officials were urging people not to panic."
Three people are feared dead in northern Lombok, Regent Najmul Akhyar, a local government official in the province of West Nusa Tenggara, told Metro TV in Indonesia. However, those fatalities had not been confirmed by the West Nusa Tenggara governor or other local officials.
The Indonesia Red Cross reported that four of its volunteers were injured and transported to a hospital. Red Cross workers were moving people to higher ground and advising people in coastal areas to leave due to tsunami concerns, said agency spokesman Arifin M Hadi. He said power was out in parts of Lombok.
Landline phone and cellphone services were reported down in Tanjung, the Lombok town nearest to the epicenter.
Images posted on social media showed damage at the Bali airport, including large ceiling tiles hanging loose or fallen to the ground. Flights at the Bali and Lombok airports were continuing.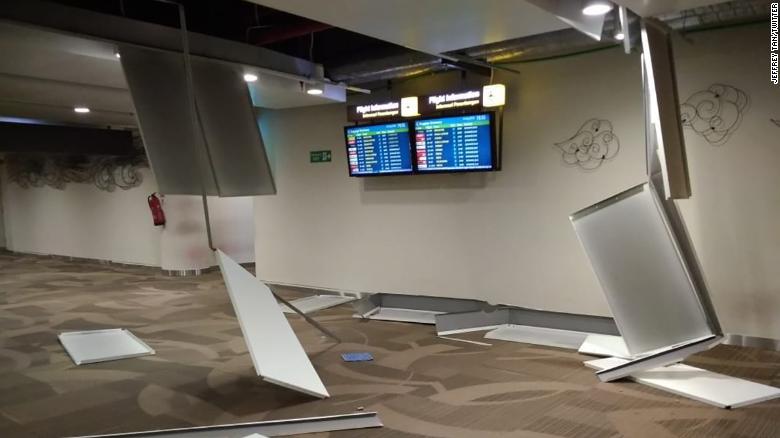 The Indonesian archipelago, where Lombok and Bali are located, is part of the Pacific Ring of Fire, a 40,000-kilometer (25,000-mile) area of intense seismic and volcanic activity where most of the world's earthquakes occur. The area stretches from Japan and Indonesia on one side of the Pacific Ocean all the way across to California on the other.
https://edition.cnn.com/2018/08/05/asia/indonesia-earthquake/index.html