A powerful 6.5R earthquake has struck central
China
, the US Geological Survey reports.
The quake struck in a sparsely populated area 200km (120 miles) west-northwest of the city of Guangyuan in Sichuan province at a depth of 10km (6 miles), the USGS said.
It had earlier put the quake at magnitude 6.6 and 32 km deep.
Shallow earthquakes tend to cause more damage than deeper ones.
There were no immediate reports of damage from the area which is frequently struck by earthquakes.
Shaking was felt in the provincial capital Chengdu and as far away as Xian, home of the Terracotta Warriors, according to users of Chinese social media.
The China Earthquake Networks Center measured the quake at magnitude 7.0 and said it was 20km (12 miles) deep.
The Chinese agency said the quake occurred around 9:20pm near Jiuzhaigou, or Jiuzhai Valley, a national park known for spectacular waterfalls and karst formations.
A quake in Sichuan in May 2008 killed almost 70,000 people.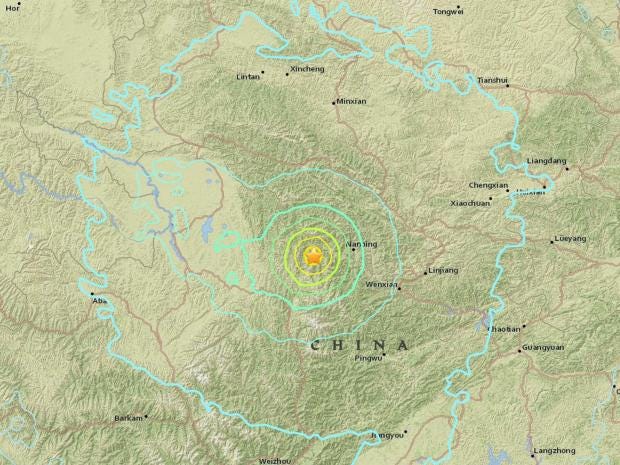 Magnitude


Mw 6.5
Region
SICHUAN-GANSU BORDER REG, CHINA
Date time
2017-08-08 13:19:50.5 UTC
Location
33.16 N ; 103.90 E
Depth
10 km
Distances
277 km N of Chengdu, China / pop: 3,951,000 / local time: 21:19:50.5 2017-08-08
173 km NW of Jiangyou, China / pop: 128,000 / local time: 21:19:50.5 2017-08-08