Families who lost their relatives in the Aug. 17, 1999 Marmara Earthquake are still waiting for the results of DNA samples taken from the 'cemetery of the nameless'
Many people lost their spouses and children during the "disaster of the century" when a 7.4-magnitude earthquake rattled Istanbul to its core. Now, 18 years after the disaster, some family members are still waiting to receive news about the loved ones they lost on Aug. 18. Today, results taken from DNA samples of unidentified victims buried in the "Cemetery of the Nameless" are offering new hope for grief-stricken loved ones.
Over a decade after the 1999 earthquake, the relatives of those who lost their lives visit the graves of unidentified victims where they write the names of their loved ones on blank tombstones, visiting the graves and praying for their lost loved ones.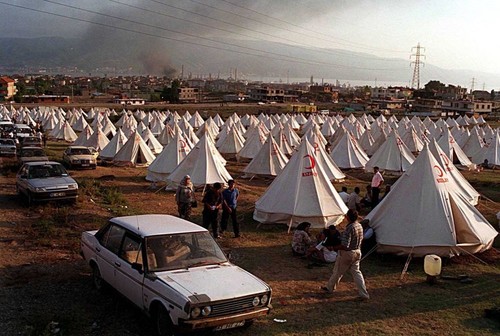 A tent city erected by the Turkish Red Crescent offered temporary homes for nearly 300,000 people in Kocaeli in 1999.
Speaking to Anadolu Agency (AA), 46-year-old Gamze Aktürk whose mother, father and grandfather were killed in the earthquake said that she has left no stone unturned in the search for information about her brother Zafer Kutluer who has been missing for 18 years since the earthquake struck.
Aktürk, who was living in Yalova at the time of the quake, said that she had travelled to Gölcük to visit her family on the day of the earthquake. "I lost my entire family on the night of the earthquake. Only my sister and I were rescued from the destruction. My mother, father and grandfather died. We never learned if my brother is dead or alive. My sister and I were hospitalized in Istanbul for treatment after the earthquake and no one was able to search for my brother. I have been unable to learn what happened to my brother. I don't know if he was dead or just injured."
In tears, Aktürk said that she searched everywhere for her brother after the quake, going to local hospitals and mental asylums for 18 years in the hope of finding him. "I made a poster with his photo on it and put it everywhere. Sometimes, we would get reports from people claiming to have seen him; however, all of these discoveries were baseless. I need solid proof that my brother has died; otherwise, I will never give up hopes of finding him. I personally do not believe that my brother is still alive. I think that if he were alive he would have found me somehow, or I would have found him. However, I cannot subdue this sorrow in me. I have to get a tangible result to be able to conclude the search. Someone has to show me his grave or something, so that I can understand that he has actually died. Otherwise, my 18-year search for him in hopes of finding answers will not come to an end."
Aktürk spoke about the remains of a man in a military uniform that were found in the destruction after the quake and sent to his family in Kahramanmaraş province. "I'm worried if it was my brother who was sent to Kahramanmaraş instead of that soldier? Let them open up the graves here and conclude the DNA tests here first. If I cannot get the result I expected here, I plan to sue for the second time in Kahramanmaraş," said Aktürk.
Sebahat Kahraman, 44, who waited to be rescued under the wreckage of her house for two hours and shocked by the news of her husband's death, strives to be able to find her missing son Murat Akalın, who was nine years old at the time of the earthquake.
Stating that she was next to her son under the wreckage and that he was alive, Kahraman said, "My son was crying next to me. I told the person who came to rescue us to take my son first. They took him from me and that was the last time I saw him. Friends of my deceased husband saw my son getting on the ferryboat. Someone with the surname 'Mısıroğlu' as far as I can remember, took my son to the ferryboat, they said. They also say that the same man spoke to a TV channel stating that the legs of my son were broken and he passed him on to the ferryboat. There was blood on my son's head, they say. This is all I could learn."
After remarrying for a second time and searching everywhere for her son for years, Kahraman said, "I received treatment in various hospitals in Istanbul for a year, as my arm and ribs were broken. We searched for my son at hospitals and orphanages. We distributed his photos everywhere. I believe that my son is alive. Finding him dead won't satisfy me for sure; however, knowing he has been laid to rest would relieve me, at least. I can pray for him at his grave if I know where it is. However, I couldn't find him. Maybe he sees me watching me on TV or people may show up who know him. I beg them to reach me. He will be 27 years old now, if he is alive. The fact that he is still missing is worse. If he is dead, at least I can visit him to pray and tend to his grave. However, in missing cases you do not know anything. It is really difficult that you don't know anything about your child, if he is okay or not? If he has been beaten or looked after well?"
Kahraman said that he opened a Facebook account to try to find his son and uploaded his photos there. He also added that official documents came from the military induction center about him.
As her son is still listed as alive according to the Civil Registry, Kahraman applied to the registry to change her son's status to "missing."
Kenan Emir (72), who lost his son, daughter-in-law and three grandchildren during the earthquake in Gölcük, strives to find his missing girl Hicran Emir, who was 18 years old at the time of the quake. Stating that he had lived in Germany for 50 years and was in Yalova at the thermal springs on holiday during the earthquake and reached Gölcük on foot upon getting the news of the destruction, Emir said, "I found them dead when I came to the house. The building had collapsed. My daughter was on the balcony during the earthquake, they say. He and the daughter of the upstairs neighbor fell down and were taken to the hospital by a taxi driver. We found the doctor who treated them and the policeman took them to the ferryboat by ambulance. I talked to them and verified the information. They took them to the military hospital in Istanbul's Kasımpaşa district. I searched for them at the 431 hospitals in Istanbul one by one; however, I couldn't learn anything.
"Finding her dead or alive will satisfy me. I know where my son, daughter-in-law and grandchildren rest, however, she is missing. Now, I have another daughter, who is 16. She was born after the earthquake. My wife was 52 when she gave birth to her. Thank God for bestowing a girl upon us after taking my children and grandchildren."
On Aug. 17, 1999, the Marmara Earthquake struck at 03:01:40 local time and lasted for 37 seconds. The epicenter of the earthquake was the most destructive. According to the official figures, 17,127 people were killed and 43,959 injured. The studies conducted after the earthquake stated that a total of 120,000 poorly engineered houses were damaged beyond repair, 30,000 houses were heavily damaged, 2,000 other buildings collapsed and 4,000 other buildings were heavily damaged. 300,000 people were left homeless after the earthquake.
https://www.dailysabah.com/feature/2017/08/17/18-years-after-earthquake-pain-of-loss-still-haunts-kocaeli