Amid the rubble of a town that seems almost to have toppled on to its hillside, it is, miraculously, still standing. But the clock on the 13th-century bell tower in Amatrice is stuck at 3.39 – three minutes after the earthquake struck.
At least 120 people died and dozens more were injured, or feared still trapped in debris, after a powerful pre-dawn earthquake devastated a string of remote hilltop towns and villages across a swath of central Italy on Wednesday.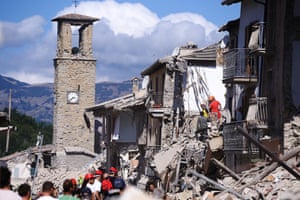 The 13th-century bell tower in Amatrice, stuck at 3.39. Photograph: Filippo Monteforte/AFP/Getty
The 6.2-magnitude quake struck at 3.36am when most were still asleep, razing homes, buckling roads and burying residents under mounds of masonry in the hardest-hit towns of Amatrice, Accumoli and Arquata del Tronto.
More than 12 hours after the initial tremor, bulldozers and earth movers were rumbling slowly up winding, deeply fissured roads, while temporary camps and kitchens were being set up to house and feed the several thousand made homeless.
Italy's civil protection agency, coordinating the rescue operation, said the death toll from the quake, which was felt in Rome more than 93 miles (150km) away, was provisional and likely to rise.
Hundreds of rescue crews from around the country, including a six-man team of firefighters from the Vatican, scrambled to the area straddling the regions of Umbria, Marche and Lazio.
"The situation is dramatic, there are many dead. Rescue efforts are under way and it is very, very difficult," the mayor of Amatrice, Sergio Pirozzi, told reporters. "Much of the village has disappeared. The aim now is to save as many lives as possible."
The mayor of Accumoli, Stefano Petrucci, was in tears, saying the situation was "even more dreadful than we feared, with buildings collapsed, people trapped under the rubble and no sound of life".
Two or three nearby hamlets had completely disintegrated, he said, adding that the town's 700-strong population swells to about 2,000 in the summer and he now feared for its future.
A regional council engineer, Orlando Sandro, said 80% of Amatrice's old town centre had been destroyed, adding that the foundations of many of the buildings that had not collapsed were so badly weakened they would have to be pulled down.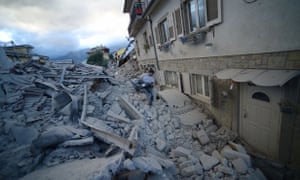 A man carries a pram among damaged buildings in Amatrice. Photograph: Filippo Monteforte/AFP/Getty
Inside the town, almost every building was cracked and whole streets were filled with rubble. There was an overpowering smell of dust.
A team of a dozen orange-suited emergency workers were busy on a large mound of rubble next to a house sliced almost exactly in half by the tremor, so neatly that a bathtub dangled precariously from an upper storey.
A survivor – a woman wrapped in a foil blanket – was rushed away on a stretcher, followed a few minutes later by a body covered with a blanket.
"What can I say," said a woman in her 30s, too distraught to give her name, sitting outside a badly damaged house a little further up the street. "This used to be my home. Now I have nothing."
Luca Faccenda, 65, said he had lost a cousin. The quake was "stronger than any earthquake I've ever felt", he said. His mother's house, where he spent his childhood holidays, was badly damaged.
"Walking around, seeing everything destroyed like this ... It's terrible," he said. "Never in my life, at my age, did I expect to see something like this. It is very hard. Terribly hard. Impossible to comprehend."