The Italy premier offers extra funds for victims as it emerges three Britons are among those killed by Wednesday's deadly tremor.
Italy's Prime Minister has declared a state of emergency in the area affected by the earthquake which killed at least 250.
Matteo Renzi authorised an initial €50m in crisis funding to start the rebuilding process and offered to cancelled taxes for those affected.
He also called for a national collective effort - dubbed Italian Homes - to build dwellings for the future that will be safe in the event of other quakes.
It follows a 6.2 magnitude tremor on Wednesday which devastated parts of Lazio, Umbria and Le Marche.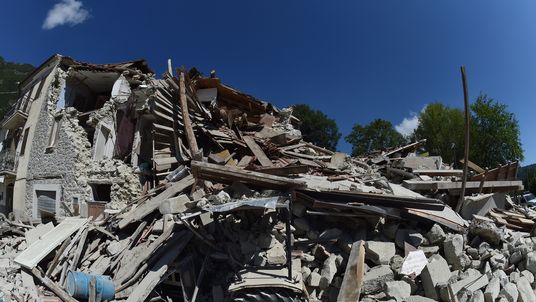 The fact that the devastation comes just seven years after more than 300 died in the nearby town of L'Aquila has prompted concerns not enough is being done to protect people's property and lives.
Mr Renzi said: "Just as the pain we feel today is strong, so, too, is the pride that belongs to a nation that is able to react in this way to a state of emergency.
"But that is not enough and we must think beyond the state of emergency, that there is a need for a bigger plan, and we will do that together."
At least three Britons were killed in the Italian earthquake in the village of Sommati, just outside Amatrice, Sky News understands.
Two of those killed were the owners of an apartment that was hit by the quake.
The other was the teenage son of another family who were staying with the owners.
It is understood that the two children of the apartment's owners survived. Their condition is not known. The mother and father in the other family are in hospital and their daughter also survived and is in an unknown condition.
Dozens of people are still believed to be trapped in Amatrice, Accumoli and Pescara del Tronto, three of the worst-hit towns.
The Local news website said Amatrice normally has a population of around 2,500 but was packed with visitors when the quake struck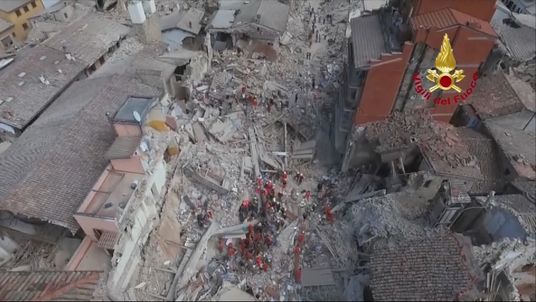 The Foreign Office has refused to comment on reports of the British deaths.
Foreign Secretary Boris Johnson said extra Foreign Office staff had been sent to the region to help provide support to Britons who have been affected.
Scores of aftershocks have been felt in the area where rescue work is under way.
At least 365 others were injured in the initial earthquake and the aftermath, with included a 4.3 magnitude aftershock the day after the first quake.
Although a few people are still being pulled out from rubble alive, a volunteer in Amatrice said 90% of those they find are dead.
http://news.sky.com/story/a-number-of-britons-killed-in-italy-earthquake-10551909