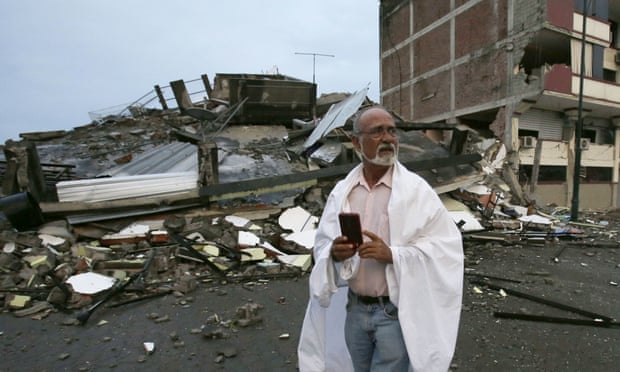 MONTECRISTI, Ecuador (AP) — The latest on the impact of the Ecuadorean earthquake (all times local):
8:20 p.m.
Ecuadorean President Rafael Correa says he will increase taxes to raise badly need funds to pay for rebuilding from the weekend's devastating earthquake.
In a televised address Wednesday night, Correa said he will use emergency decree powers created in the wake of the quake to raise sales taxes by 2 percentage points for a single year.
Taxes on millionaires and businesses will also be increased, while everyone earning more than $1,000 a month will have a day's wages deducted from their paycheck to help pay for reconstruction efforts.
Correa says the government will also look to sell some state assets.
___
7:40 p.m.
Ecuador's president says the death toll from the weekend earthquake has risen to 570.
The number reported by President Rafael Correa was 17 higher than earlier in the day. He says 526 of the known dead have been identified.
Correa says the number of people unaccounted for is still 163 and the number of injured remains at 7,015.
___
4:15 p.m.
A Spanish plane has loaded up with supplies at a military base near Madrid and is carrying 13 tons of aid to Ecuador's earthquake zone, including drinking water for 18,000 people.
Also aboard the jet Wednesday were tents, blankets, electrical generators and personal hygiene products like towels and soap so people in the affected areas can stay clean and help avoid the outbreak of disease.
Rafael de Prado, director of emergency services at the Spanish Agency for International Development Cooperation, says, "The main risk at this point is for those who are in the affected areas to have access to clean water and sanitation to avoid illnesses due to (lack) of hygiene in the next couple of days."
Ecuadorean Ambassador to Spain Miguel Calahorrano Camino says the quake's toll has been hard.
In his words, "Our people are fighting, hardworking people and we hope that this bravery and the hard work of our people will be able to overcome this catastrophe."
___
3:55 p.m.
Ecuadorean President Rafael Correa is readying emergency economic measures to help his country pay for rebuilding from this weekend's earthquake.
Appearing at a news conference Wednesday in Quito, Correa said that among the measures being considered to raise badly needed funds is the sale of bonds. He also urged congress to approve pending legislation raising taxes on cigarettes, sugary drinks and alcohol.
Correa has said it could cost tiny Ecuador $3 billion, or about 3 percent of gross domestic product, to rebuild from the quake. But funding will be hard to come by with the economy expected to shrink 4.5 percent this year because of falling oil prices.
On Wednesday, the Inter-American Development Bank said it had extended Ecuador a $300 million credit line and provided a $200,000 donation to help Ecuador cope.
___
1 p.m.
The death toll from Ecuador's major earthquake continues to rise.
Ecuador's attorney general said Wednesday that 553 people were killed during the quake. The previous report put the number of dead at 525.
Another 4,065 people are injured and about 100 remain missing following Saturday evening's magnitude-7.8 quake along the Pacific coast.
___
11:50 a.m.
The U.N. humanitarian chief says hundreds remain missing after Ecuador's earthquake and that 21,000 people "need shelter immediately."
Stephen O'Brien spoke to reporters Wednesday by telephone from the country. He stresses the "real need" for drinking water in the affected areas.
He calls the quake a massive one "with devastating consequences."
___
10:45 a.m.
Pope Francis has sent another message of encouragement to victims of Ecuador's massive earthquake.
Francis told a crowd of Roman Catholics at the Vatican that that his prayers are with the victims of the tragedy.
He expressed "our closeness and our prayers in this time of grief" for Ecuadorans.
___
6:55 a.m.
The Cuban government says three of its doctors have died in Ecuador's big earthquake.
The Public Health Ministry says the three were inside a building in the city of Pedernales that collapsed when the magnitude-7.8 quake hit on Saturday evening.
It praises them as "examples of altruism and the solidarity that characterizes our people."
The ministry says 742 Cuban health workers are laboring in Ecuador, which is an ally of the Cuban government.
The report was published Wednesday on the government's Cubadebate website.
___
3:55 a.m.
The U.S. Geological Survey says that a tremor of magnitude 6.1 has rattled Ecuador.
The tremor was centered offshore, 25 kilometers (15 miles) west of Muisne, at 3:33 a.m. local time.
There were no immediate reports of damage.
___
3:45 a.m.
Ecuador's National Prosecutors Office says the death toll from the weekend earthquake has risen to 525, up from a previous official toll of 507.
The office said on its official Twitter account Wednesday that there were at least 11 foreigners among the dead.
It said 15 of the dead remained unidentified but none was foreign.
The office said 435 of the dead were found in the Manta, Portoviejo and Pedernales areas.
The Defense Department reported Tuesday that more than 200 people were still missing following the 7.8-magnitude earthquake Saturday.
___
3:00 a.m.
Ecuadoreans began burying loved ones felled by the country's deadliest earthquake in decades, while hopes faded that more survivors will be found.
In the small town of Montecristi, near the port city of Manta, two children were among those buried Tuesday. The funeral had to be held outside under a makeshift awning, because the town's Roman Catholic church was unsafe from structural damage. Family members wailed loudly and one man fainted as the children were laid to rest in an above-ground vault.
Scenes of mourning multiplied all along Ecuador's normally placid Pacific coastline, where the tremor flattened towns.
http://www.theintermountain.com/page/content.detail/id/1144729/The-Latest--Ecuador-to-raise-taxes-to-fund-quake-recovery.html?isap=1&nav=5024