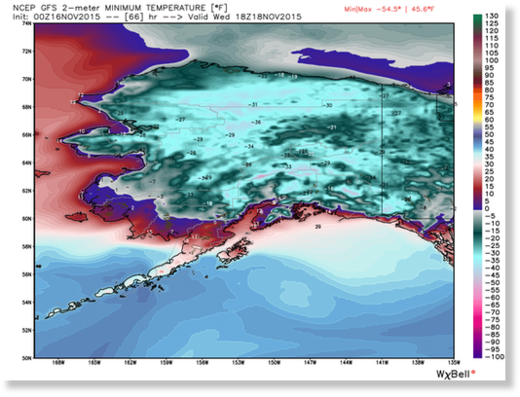 It's only November and Alaska has been plunged into a deep chill,
with frostbite-inducing temperatures dipping as low as 24 below zero early Monday.
Fairbanks was subjected to bitter temperatures of minus 22 degrees
Sunday and was forecast to endure almost as bad on Monday night, according to forecasters.
"With these sorts of temperatures, people are at risk of frostbite within a minute of stepping outside, if not less time than that," according to Kevin Roth, lead meteorologist at The Weather Channel. "You've got to be bundled up from head to toe with no exposed skin. With this kind of cold, you walk outside and it really takes your breath away if you're not used to it."
Temperatures were about 20 degrees below average
but were some way off record lows, Roth said, adding the state was not expected to go above zero until Thursday.
http://www.sott.net/article/306646-Alaska-endures-bitter-temperatures-of-minus-24-and-its-only-November