The three neutron monitors in South Africa, today. We can see a spike up in the one in Namibia, which shows another earthquake as we have seen is likely.
Tsumeb – Namibia (The last curve in the chart above)
(190 12' S, 170 35' E, altitude 1240 m.a.s.l., ambient atmospheric pressure 660 mm Hg)
The 18NM64 neutron monitor operates at a research station that was established by the Max Planck Institue for Aeronomy in 1957 for ionospheric observations during the IGY. Presently, the station is maintained by the Geological Survey of Namibia. The station is situated about 12 kilometers north-west from the town of Tsumeb, in the northern part of Namibia. The photograph of the buildings was taken from one of the high towers of the ionosonde antenna on the site.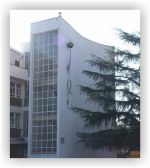 Potchefstroom - South Africa (The second chart above)
(260 41.9' S, 270 05.6' E, altitude 1351 m.a.s.l., ambient atmospheric pressure 652 mm Hg)
The 15 counter IGY-type neutron monitor is situated on the roof of the Physics building of the Potchefstroom Campus of the North-West University. This building houses the Centre for Space Research, responsible for the processing of the data recorded by this chain of neutron monitors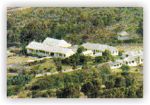 Hermanus – South Africa (The first chart above)
(340 25.5' S, 190 13.5' E, altitude 26 m.a.s.l., ambient atmospheric pressure 760 mm Hg)
Hermanus is a town at sea level close to the southern point of Africa. It is a picturesque seaside resort, famous for whale watching. The neutron monitor is operated by the Hermanus Magnetic Observatory since the International Geophysical Year (IGY), from July, 1957. Currently it consists of 12 NM64 Chalk River neutron counter tubes, and it is the second oldest continuously operating neutron monitor.