We did not cover Myanmar in our lists (excess of work). But from our GLOBAL calendar below we can see the peak on 25th August +-1 day window makes his a hit for our method!
UPDATED: 8:28 a.m. EDT —
Eyewitnesses to Wednesday's powerful earthquake that shook Myanmar were speaking out following the seismic event that did not immediately leave any deaths. Officials were still surveying the damage, reported Channel News Asia
"My house shook during the quake. Many people were scared and they ran out of the buildings," local official Maung Maung Kyaw said. "I went outside to check the situation in the town. Some of the buildings are split and nearly collapsed, but I don't see any people affected by the quake."
Other officials were checking pagodas as public transportation was brought to a temporary halt, Myanmar Times reported. "Services of the underground railway have been suspended fearing aftershocks of the quake," a railroad spokesperson said.
Original story:
A magnitude 6.8 earthquake rocked central Myanmar Wednesday, according to multiple news reports. The closest city to the earthquake's epicenter is Chauk, which is located more than 15 miles away, the BBC reported. The U.S. Geological Survey reported that the earthquake hit nearly 89 miles west of the city of Meiktila and ran more than 52 miles deep, according to Agence France-Presse.
The southeast Asian country, formerly known as Burma, did not report any immediate cases of casualties or injuries, but the earthquake was powerful enough to have been felt as far as Bangkok, which is nearly 800 miles away, the Associated Press reported.
Photos from various locations across Myanmar were surfacing on social media and showed the extent of the type of damage the roads and structures sustained from the earthquake.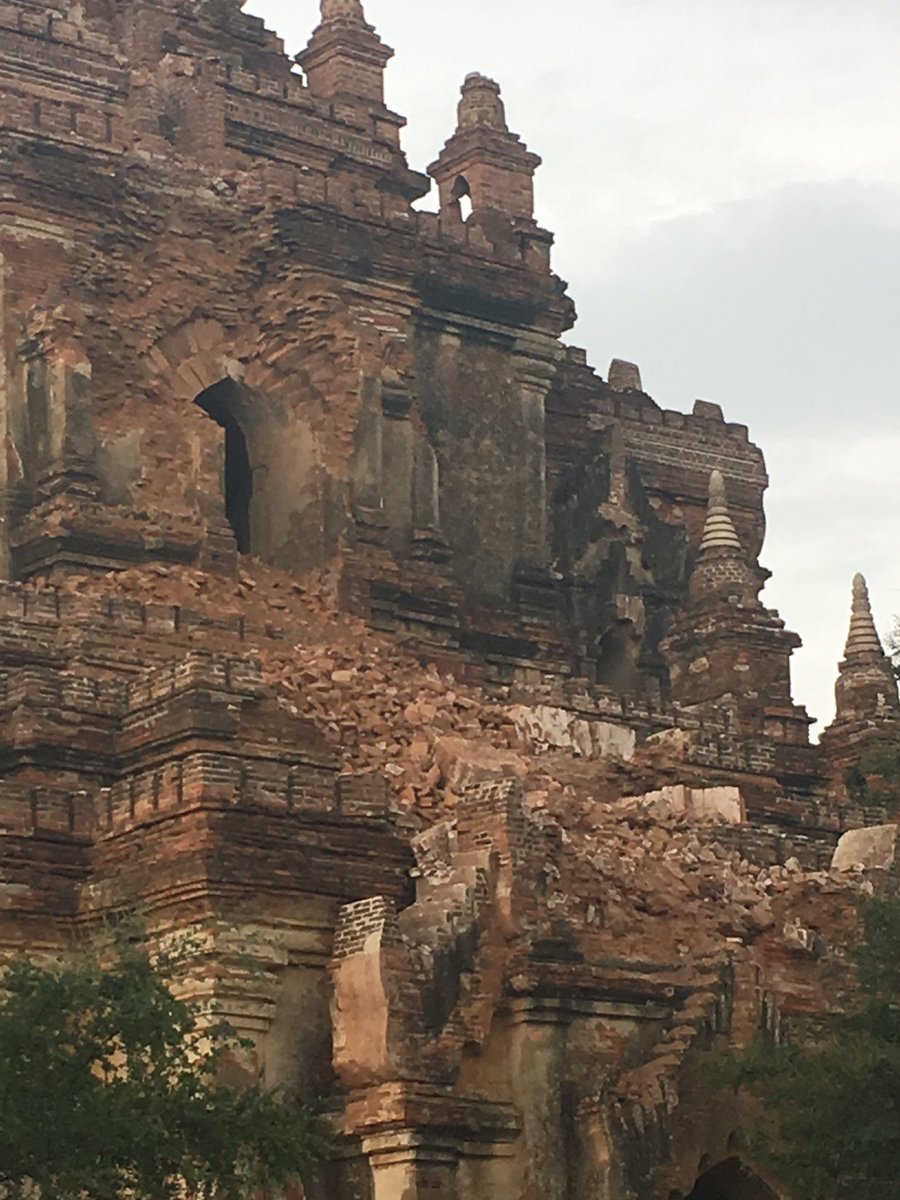 Magnitude


Mw 6.8
Region
MYANMAR
Date time
2016-08-24 10:34:54.7 UTC
Location
20.95 N ; 94.61 E
Depth
85 km
Distances
190 km SW of Mandalay, Myanmar / pop: 1,208,099 / local time: 17:04:54.7 2016-08-24
94 km N of Magway, Myanmar / pop: 96,954 / local time: 17:04:54.7 2016-08-24
23 km W of Chauk, Myanmar / pop: 90,870 / local time: 17:04:54.7 2016-08-24