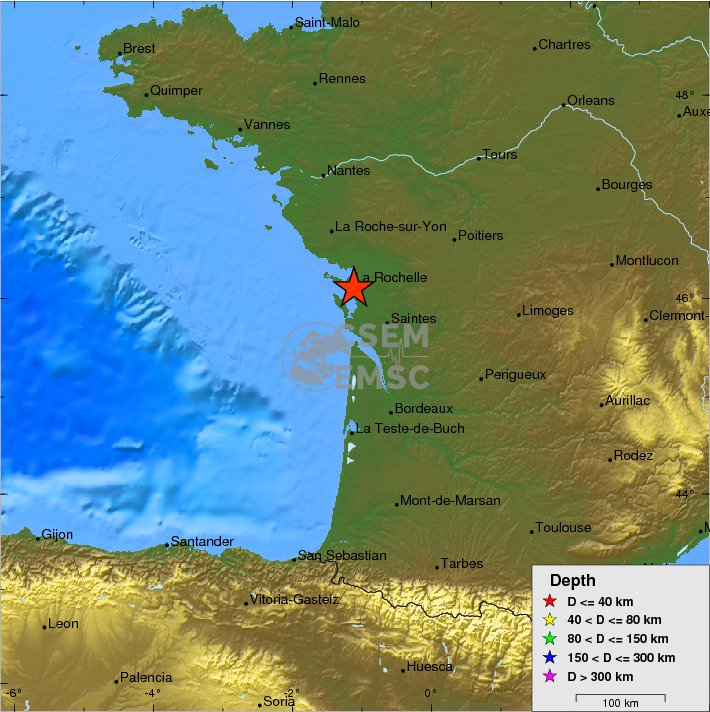 An earthquake registering 5.0 on the Richter scale has struck the southwest of France near the city of La Rochelle. The quake hit at 08:45 local time at a depth of 15 kilometers.
Writing on Twitter, Laurent Simon from Bordeaux said the earthquake was
"a very small one,"
but it was an
"interesting feeling."
Sophie Thurlow mentioned that she woke up to her "room shaking."
The epicenter of the quake was eight kilometers southeast of La Rochelle, which is a port on the Bay of Biscay with a population of just over 75,000. There are no reports of any damage so far.
On Monday, a small earthquake struck Austria near the capital Vienna. The quake measured 4.4 on the Richter scale.
Earthquakes in the area are rare, but geologists have warned that Vienna risks being struck by a large quake in the future. An active fault line runs deep under the Vienna Basin, which covers the city's area, as well as parts of the Czech Republic and Slovakia.
"There are half a dozen known fault lines under the Vienna Basin, which are moving at a very slow rate, but we believe that every 20,000 years or so they are capable of causing an earthquake on the scale of 6.0 or 7.0 on the Richter scale,"
geologist Dr Kurt Decker from the University of Vienna told the Local.
The last time France was hit by a deadly earthquake was in 1909, when the town of Lambesc near Marseille was struck by a magnitude-6 tremor, which killed 46 people and injured a further 250.
However, speaking in April 2014 after an earthquake on the French Rivera, seismologist Remy Bossu from the European Mediterranean Seismological Centre (EMSC) in Paris said the south of France was at risk of serious damage from earthquakes in the future, due to antiquated designs of many buildings, which would not be able to withstand a powerful quake.
"If it's magnitude 6 then it can cause damage up to 15 kilometers away. What is key is how far it will be from the nearest town or city. If it's 10km then the impact will be limited, but if it's close to a town like Nice then it's a different story. It can have a huge impact. Then we are looking at a similar quake to what happened in L'Aquila,"
he said, in reference to 2009 quake in Italy, which killed 308 people, despite only registering 5.9 on the Richter scale.
https://www.rt.com/news/341204-earthquake-strikes-southwestern-france/